USTAWA O MŁODZIEŻY / UOM STRAIGHT EDGE HARDCORE BAND
 USTAWA O MŁODZIEŻY / UOM
STRAIGHT EDGE HARDCORE BAND
PART 3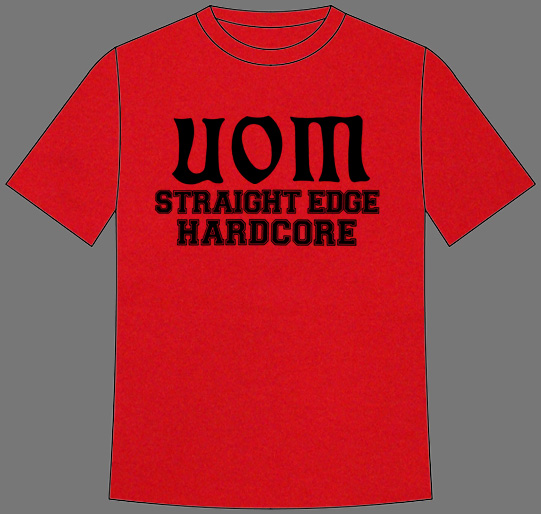 At the very early stage there were no independent spaces, so we rehearsed and played gigs in student clubs, cultural centers, cellars, private homes and other strange places. The news of our band being active and blasting out torrents of fresh loud sounds spread very quickly, as nobody played this sort of music at that time. The good old punk music dominated the scene. We started out in Krakow, but soon were invited to play gigs all over the place. We usually travelled by train, just like a great UK band Active Minds, with whom we played on different occasions. They were only two guys, playing guitar and drums, but making lots of cool noise.
Quite early in our activities we were invited by Pendzel to play with NYC's False Prophets. Then we had a short tour during which we performed with two fantastic English bands Sink and Instigators in Piła. They were super cool and we had nice conversations and I took some pics, one of which you can see on the BRITISH HARDCORE PUNK SCENE subpage here.
Another fantastic experience was gigging with Snuff, another great British band. Nice people playing ultra hooky stuff. That was in Łódź and they were supported by Stand To Fall from Linz. in Zielona Góra we did an outdoor concert with amazing Soulside from Washington D.C. UOM also played in Białystok with other US greats from Verbal Assault and a good female fronted band Arm from Hamburg. I interviewed Soulside and Verbal Assault for my SE HC fanzine called USTA. Some time later we borrowed a car from one of my friends and went to Radom to play with Concrete Sox. Nice cider drinkers who seemed to like the Polish kind of cheap apple wine.
In Katowice we played a rip-off gig organized by some fake eco-punks, but the bands were good. The local group called Butterfly and Kill the Thrill from Marseille, who must have been formed just about that time and I believe are still active today.
One of our rare Krakow gigs was the one with Yuppicide from NYC and Critical Situation from Prague. Sheer madness! (see photo in the HARD AGAIN subpage). And the ultimate hardcore experience was a gig in Nowa Huta, the biggest city district in Poland with a quarter of a million inhabitants, with the almighty M.D.C. from the U.S., President Fetch from Copenhagen, Ahimsa from Warsaw and Ustawa o Młodzieży from Krakow. I organized the concert in a big cinema in Nowa Huta which was especially rented for that night.
These are most of the foreign bands that we played with. There were many other gigs we shared with many of the important Polish hardcore, punk and other underground bands. 
 ALL TEXTS AND IMAGES © PIOTR SIATKOWSKI
---