USTAWA O MŁODZIEŻY / UOM
USTAWA O MŁODZIEŻY / UOM
BAND
THE ORIGINAL FIRST POLISH SE HC STRAIGHT EDGE HARDCORE BAND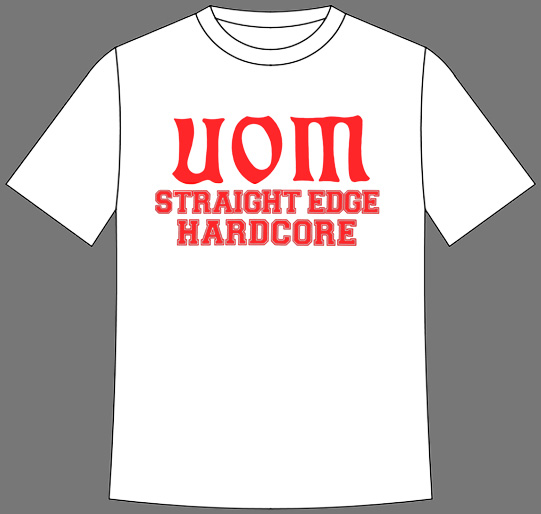 It all began a long time ago when the Earth was going through another Earth crisis, another ice age, both mentally and morally and it seemed there was no future for you and me. Fortunately, there was a wild tribe of the so-called punks hiding in the caves of the Cro-Magnon punk rock Shelter. They were the ones to save our dying planet. I saw them as a New Wind. Punk rock was a revolution, punk ruled. But when the wild beasts mutated into the hardcore species, I knew we would win.
In the beginning, back in 1983, man, we didn't know about the HC show. Luckily, we were invaded by the alien spies from the US who infected us with the dreadful HC virus. Literally everything hardcore recorded up until the day. We did not think twice about copying all that filthy stuff. It took lots of cassette tapes to contain all the albums, 7" singles and EP's and compilation cassettes released by small independent labels or self-released DIY style.
That was a cultural TKO, both musically and in terms of content. From Adrenalin O.D. to Zero Boys and tons of amazing bands in between. There were only a few of us who heard the music. And it was Nastie and myself (Petar) who immediately decided to start a band in the summer of 1983. We had nothing. No lineup, no instruments, no equipment, no rehearsal space. Still, we started writing material for our group. It took us about two years to get ready and put on our first gig in the student club Nawojka in Kraków in 1985. The band was called ID and it was both the first Polish hardcore band and the first hardcore gig in Poland.
I was not only into hardcore, I was heavily drawn to the idea of straight edge. It had always been my idea but I did not have the name for it. And suddenly here comes this nice idea complete with devastating music and interesting lyrics. Working on ID's material I realized that I was the only one into SEHC. The others were not bothered or were against it. So at the same time I started writing songs for another band that was supposed to be SEHC only.
I recruited Struna aka Tomasz Teterycz to be our frontman. He was really hooked on hardcore and also on NWOBHM. He collected the hard to get vinyl records, always looking for a new platter. He was also an ardent skateboarder, one of the first serious skaters here. I also asked a fantastic drummer Wojtek Jazz to join us. He used to work with ID as well. He was a great musician and a cool buddy. Into punk, new wave, hardcore, jazz and many other things. On guitar we had Krzysiek, whose main assests were his semi-pro guitar and his trained ear. He was the only one who had some musical training. Did not know much about HC but had gained some experience in one or two punk bands before. The only bass player in UOM was always Petar.
TBC 
PIERWSZY POLSKI ZESPÓŁ STRAIGHT EDGE HARDCORE
JAK TO SIĘ ZACZĘŁO
CZYTAJ WKRÓTCE
ALL TEXTS AND IMAGES © PIOTR SIATKOWSKI
---