UOM / USTAWA O MŁODZIEŻY / SEHC 2
 UOM / USTAWA O MŁODZIEŻY / SEHC
ZESPÓŁ HARDCORE PUNK 
CZĘŚĆ 2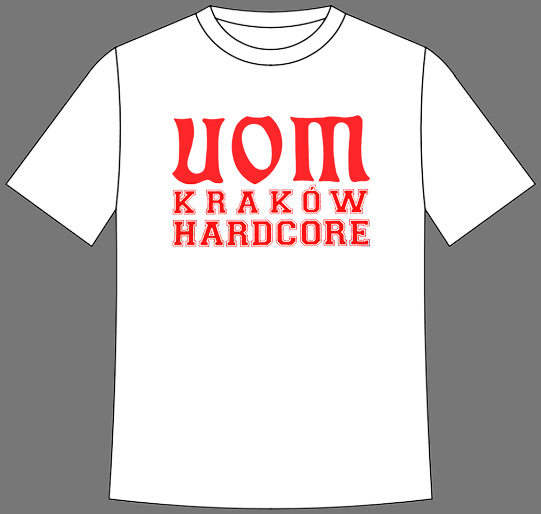 Ustawa o Młodzieży to zespół siłą rzeczy dla mnie najważniejszy. Był w miarę dokładną realizacją moich zamierzeń na terenie hardcore punk, a nawet, precyzując, straight edge hardcore punk (SE HC). Był w pełni dziełem autorskim.
Nie mogę jednak nie wspomnieć o innym ważnym przedsięwzięciu, jakim była kapela o nazwie ID. Pierwszy mój zespół i zarazem pierwsza polska grupa grająca hardcore. Czasami niektórzy piszący o niej, dodają "amerykański", co wydaje mi się trochę zbędne. Bo niby jaki miał być? Wprawdzie fala hardcore'owego tsunami zalewała już cały świat, ale oczywistym było i jest nadal, że źródło było w USA. Stamtąd wszyscy czerpali wzory.
Także i my nie wymyśliliśmy ognia, tylko staraliśmy się go podtrzymywać a nawet podsycać. Zespół ID założyliśmy we dwójkę - Nasty i Petar i muszę powiedzieć, że w tamtym czasie nie znalazłbym lepszego kolaboranta. Nasty był, podobnie jak ja, stuprocentowo opętany przez szaleństwo HC. To chyba jednak była choroba. Muzyczna dawka uderzeniowa, którą przyjęliśmy była zbyt duża.
Decyzja o powstaniu kapeli zapadła natychmiast. Jednak łatwiej powiedzieć niż zrobić. Mieliśmy tylko tanią gitarę, na której grał Nasty. Żadnego sprzętu, żadnego miejsca na próby. Żadnych muzyków, którzy znaliby i lubili hardcore punk i wiedzieli czym to się je. Wprawdzie amerykańskie kasety ze skopiowanymi albumami, singlami i EP's US HC, opisywane przeze mnie wcześniej, poznało jeszcze parę osób (w tym muzyków punkowych) i nawet podobnie się nimi zachwyciło, ale bardziej jako odbiorcy. Nie mieli zapędów do grania tej nowej muzyki.
Zaczęliśmy więc szukać ludzi do zespołu i, przede wszystkim, tworzyć materiał dla grupy, która jeszcze nie nazywała się ID. To przyszło później. Niepisaną zasadą było: Nasty pisze muzykę, Petar teksty. Inspiracje były bardzo liczne i niezwykłe. Pierwsza fala tak zwanego American Hardcore to były kapele niesamowicie kreatywne i muzycznie bardzo zróżnicowane. Przeciętność, powielanie pomysłów, wręcz klonowanie wzorców przyszło znacznie później.  
ALL TEXTS AND IMAGES © PIOTR SIATKOWSKI
---