UOM / USTAWA O MŁODZIEŻY
UOM / USTAWA O MŁODZIEŻY
ZESPÓŁ
PIERWSZY POLSKI ZESPÓŁ SE HC
 STRAIGHT EDGE HARDCORE PUNK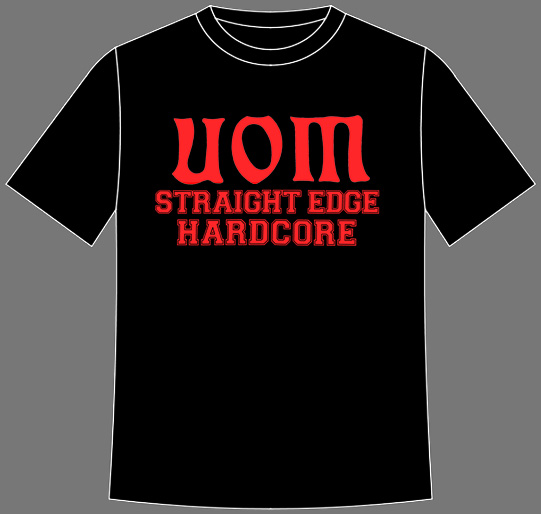 `
Ustawa o Młodzieży (UOM) to zespół hardcore punk, który jako pierwszy w Polsce zaproponował muzykę i treści odwołujące się bezpośrednio do nurtu HC znanego jako straight edge, a który chwilę wcześniej pojawił się na scenie muzyki niezależnej w USA. Założenie grupy UOM i początki pisania materiału dla niej to rok 1983. Pierwszy koncert - około dwa lata później.
Ten poślizg nie wynikał z lenistwa czy braku zaangażowania. Wręcz przeciwnie. Energii i entuzjazmu wystarczyłoby na nagłośnienie festiwalu Woodstock, Lollapalooza, czy choćby któregoś z licznych później Punk Picnic. Powody były bardziej prozaiczne. Nie było na czym grać, nie było gdzie próbować i, co najważniejsze, nie było z kim grać.
Muzyków undergroundowych było jak na lekarstwo, a jeśli już się jacyś znaleźli, to na ogół byli mocno ukształtowani przez "szkołę podkarpacką" (Jabol Punk) albo "szkołę jarocińską" (Sidney rzyje!). Hardcore punk to była ziemia nieznana. Trzeba było wśród tubylców wyszukiwać potencjalnych kandydatów na muzyków hardcore i edukować ich dla tej "zdegenerowanej sztuki".
Co brzmi o tyle zabawnie, że oni przeważnie byli przy mnie gigantami jeśli chodzi o podstawy muzyki czy kształcenie słuchu. Ale to jednak punkowa rewolucja. Nie o bogate harmonie czy godzinne solówki chodziło. Bardziej o treści, przekaz, stylowość i ekspresję.
Ale pomimo licznych trudności i niedostatków, dziś trudnych do wyobrażenia, można było przecież pracować nad tworzeniem programu dla zespołu. I to właśnie cały czas robiłem. Wzory były znakomite. Właśnie w lecie 1983 roku przyjechała do Krakowa grupa amerykańskich studentów by zapoznać się z historią i kulturą Polski. To miłe, ważniejsze jednak było to, że przywieźli ze sobą walizkę kaset magnetofonowych, na których były prawdopodobnie wszystkie nagrania jakie do tamtego czasu wydało zjawisko znane jako American Hardcore.
Pierwszym kawałkiem jaki napisałem był "Jestem", znany czasem także jako "Jestem patologią społeczną"
 CIĄG DALSZY WKRÓTCE
WIĘCEJ W WERSJI ANGIELSKIEJ NA STRONIE OBOK 
ALL TEXTS AND IMAGES © PIOTR SIATKOWSKI 
---